For J and I's much anticipated two year anniversary, we decided on celebrating (and stuffing our faces) at
Ceiba
, one of J's favorite restaurants. Since I had only been there once before and
just
for drinks, I happily agreed and studied the
menu
in anticipation! *cough* fat kid *cough*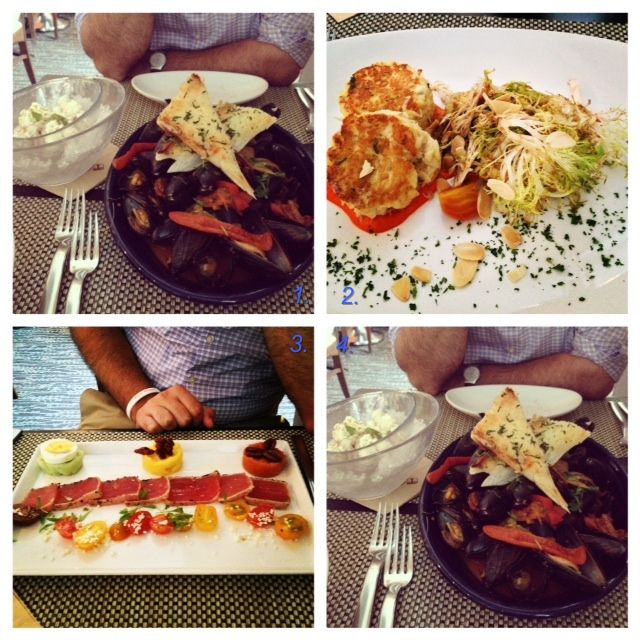 Here is a look at what we got:
1. Dos Equis Beer Steamed Mussels - As the name may hint at, we ordered mussels that were steamed in Dos Equis beer. These mussels certainly stayed thirsty my friend (how could I resist?) and deliciously soaked up the flavorful, yet spicy broth. It was also served with two pieces of garlic bread that you could use to soak up even more of the Dos Equis, chorizo, pepper, and onion flavored broth.
Peruvian Ceviche "Clasico" - J is obsessed with all types of ceviche so I knew we had to test this out. It did not disappoint. It was light, refreshing, and oh so tasty. It still amazes me that the fish is completely cooked through the acidity from lemon juice. (Simple) mind blown!
2. Seared Jumbo Lump Crab Cakes - If you are anything like me (aka obsessed with all things crab), then this is the dish for you. Seriously, this was the crabbiest crab cake I have ever had. It's served along side a frisee salad, topped with almonds, and dressed with a bacon vinaigrette.
3. Trio of Causa Con Atun - This was J's dish of fresh yellow fin tuna, potato cakes, and a marinated tomato and habanero salad. Although very good, this dish paled in comparison to the other dishes we had that night.
4. Dos Equis Beer Steamed Mussels - We liked the mussels so much that we ordered it again. JUST KIDDING. But really, I WISH, because they were that just that good. Maybe next time!

Finally at the end of the meal when you get your check, they sweeten the deal with brittle! I would have taken a picture, but we ate it too fast...Whoops.

All in all, we were beyond pleased with our dinner at Ceiba and I cannot wait to go back!